Imaging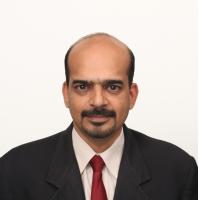 MBBS, DMRD, DNB, FRCR, FRANZCR
Shyamkumar N Keshava completed his graduation from Karnataka Medical College, Hubli. He has obtained DMRD and DNB from CMC, Vellore. He has also completed FRCR (UK) and FRANZCR (Australia). His main area of interest is Interventional Radiology, postgraduate teaching and imaging & interventions in Haemophilia. He has also worked in Australia and UK.
Dr Keshava is member of several medical societies, including – IRIA, ISVIR, Indian Society of Paediatric Radiology (ISPR), Royal College of Radiology. He has given several guest lectures and has got 160 publications. He is also external expert and Radiology examiner for several Indian medical Institutions.
Key Publications
1. Keshava S, Gibikote S, Mohanta A, Doria AS. Refinement of a sonographic protocol for assessment of haemophilic arthropathy. Haemophilia. 2009 Sep;15(5):1168-71.
2. Poonnoose PM, Manigandan C, Thomas R, Shyamkumar NK, Kavitha ML, Bhattacharji S, Srivastava A. Functional Independence Score in Haemophilia: a new performance-based instrument to measure disability. Haemophilia. 2005 Nov;11(6):598-602.
3. Doria AS, Keshava SN, Mohanta A, Jarrin J, Blanchette V, Srivastava A, Moineddin R, Kavitha ML, Hilliard P, Poonnoose P, Gibikote S. Diagnostic accuracy of ultrasound for assessment of hemophilic arthropathy: MRI correlation. AJR Am J Roentgenol. 2015 Mar;204(3):W336-47.
4. Keshava SN, Gibikote S, Doria AS. Imaging Evaluation of Hemophilia: Musculoskeletal Approach. Semin Thromb Hemost. 2015 Nov;41(8):880-93. Epub 2015 Oct 19.