Imaging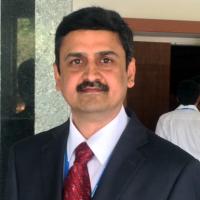 MBBS: M.R. Medical College, Gulbarga, India; 1985-1990
DMRD: Christian Medical College, Tamilnadu Dr. MGR Medical University Chennai; 1993-95
DNB: National Board of Exams, New Delhi; 1996
Fellow, Department of Radiology, Children's Hospital at Westmead, Sydney, Australia: 2000
Fellow, Department of Radiology, Royal Children's Hospital, Melbourne, Australai: 2004, 05
Examiner for MD Radiology at multiple state Universities and the National Board, New Delhi
Key Publications
1. Keshava SN, Gibikote SV, Mohanta A, Poonnoose P, Rayner T, Hilliard P, Lakshmi KM, Moineddin R, Ignas D, Srivastava A, Blanchette V, Doria AS. Ultrasound and magnetic resonance imaging of healthy paediatric ankles and knees: a baseline for comparison with haemophilic joints. Haemophilia. 2015 May;21(3):e210-22.
2. Doria AS, Keshava SN, Mohanta A, Jarrin J, Blanchette V, Srivastava A, Moineddin R, Kavitha ML, Hilliard P, Poonnoose P, Gibikote S. Diagnostic accuracy of ultrasound for assessment of hemophilic arthropathy: MRI correlation. AJR Am J Roentgenol. 2015 Mar;204(3):W336-47.
3. Chandramohan A, Gibikote S, Saxena AK. US as a primary tool in the work-up of malrotation. Pediatr Radiol. 2010 Nov;40(11):1844-5.
4. Keshava S, Gibikote S, Mohanta A, Doria AS. Refinement of a sonographic protocol for assessment of haemophilic arthropathy. Haemophilia. 2009 Sep;15(5):1168-71.
5: Gibikote S, Verghese VP. Diagnosis of pneumonia in children: ultrasound better than CXR? Radiol Med. 2008 Oct;113(7):1079-80