Member Profile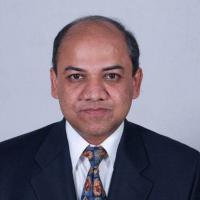 Dr. Alok Srivastava is the head of the department of Hematology as well as the Centre for Stem Cell Research at the Christian Medical College, Vellore in India.
After completing his medical training at the Christian Medical College, Vellore in the University of Madras, India, Dr. Srivastava pursued subspecialty training in hematology at the Institute of Clinical Pathology and Medical Research at the Westmead Hospital, Sydney, Australia.
Dr. Srivastava is Vice President of the World Federation of Hemophilia and Chair of its External Quality Assessment Scheme. He was the chair of the FVIII / IX subcommittee of the SSC of the ISTH from 2006 to 2010. He is chair of the National Apex Committee for Stem Cell Research and Therapy of the Department of Health Research, Ministry of Health of Government of India as well as co-chair of the Task Force on Stem Cell Research and Regenerative Medicine of the Department of Biotechnology of the Ministry of Science and Technology in the Government of India.
Key Publications
Jayandharan GR, Srivastava A, Srivastava A. Role of molecular genetics in hemophilia: from diagnosis to therapy. Semin Thromb Hemost. 2012 Feb;38(1):64-78.
Viswabandya A, Baidya S, Nair SC, Abraham A, George B, Mathews V, Chandy M, Srivastava A. Correlating clinical manifestations with factor levels in rare bleeding disorders: a report from Southern India. Haemophilia. 2012
Sumitha E, Jayandharan GR, David S, Jacob RR, Sankari Devi G, Bargavi B, Shenbagapriya S, Nair SC, Abraham A, George B, Viswabandya A, Mathews V, Chandy M, Srivastava A. Molecular basis of Bernard-Soulier syndrome in 27 patients from India. J Thromb Haemost. 2011 Aug;9(8):1590-8
Padankatti SM, Macaden AS, Cherian SM, Thirumugam M, Pazani D, Kalaiselvan M, John JA, Subbian E, Prakash H, Poonnoose PM, Kavitha ML, Devadarasini M, Viswabandya A, Mathews V, Srivastava A. A patient-prioritized ability assessment in haemophilia: the Canadian Occupational Performance Measure. Haemophilia. 2011; 17:605-11
Publications
Musculoskeletal Ultrasound in Hemophilia: results and recommendations from a global survey and consensus meeting
Citation
Research and Practice in Thrombosis and Haemostasis. Accepted April 2021
Reference Ranges of HJHS Scores in Healthy Adult Males without Hemophilia
The 2020 Virtual Congress of the International Society on Thrombosis and Haemostasis (July 12 - 14, 2020)
Elevated HJHS scores in healthy adult males without hemophilia
The XXXI World Federation of Hemophilia Congress (May 20 -24, 2018 – Glasgow, Scotland)
Elevated HJHS Scores in healthy adult males without hemophilia
Citation
Haemophilia 2018; 24 (S5): 176, W- FPMED01- 002
The economics of haemophilia prophylaxis: governmental and insurer perspectives. Proceedings of the Second International Prophylaxis Study Group (IPSG) Symposium.
Citation
Haemophilia 2007 Nov; 13 (6): 745-749.