Member Profile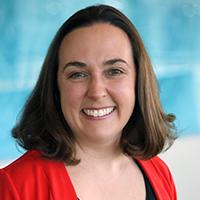 Dr. Warren has had an interest in the bridge between engineering and medicine since her undergraduate education at Rice University. She completed a masters degree in biomedical engineering at Emory University/Georgia Tech before going to medical school at the University of Texas Southwestern. She completed pediatrics residency, pediatric hematology/oncology fellowship, and hemostasis and thrombosis fellowship at the University of Colorado. She enjoys spending time with her husband and 2 kids, biking, skiing green runs, and relaxing in hammocks.
Under the mentorship of Dr. Marilyn Manco-Johnson, MD, and Dr. Sharon Funk, DPT, Dr. Warren led the analysis of the Joint Outcome Continuation Study (JOS-C), which followed children with severe hemophilia A randomized in toddlerhood to receive on-demand vs prophylactic factor VIII through adolescence. This demonstrated that it is important to start prophylaxis early, and that even excellent prophylaxis from an early age does not fully prevent joint damage. Through that process, Dr. Warren learned the intricacies of MRI and physical exam joint evaluations in hemophilia, and she also realized that future studies of hemophilia need to include better analyses of movement and sports. This led to the development of her current NIH K23 grant, which explores the relationship between movement patterns and joint bleeding.
Key Publications
1. Warren, BB, Jacobson, L, Kempton, C, Buchanan, GR, Recht, M, Brown, D, Leissinger, C, Shapiro, AD, Abshire, TC, and Manco-Johnson, MJ.Factor VIII prophylaxis effects outweigh other hemostasis contributors in predicting severe haemophilia A joint outcomes Haemophilia, 2019: DOI: 10.1111/hae.13778.

2. Warren, BB, Thornhill, D, Stein, J, Fadell, M, Ingram, JD, Funk, S, Norton, KL, Lane, HD, Bennett, CM, Dunn, A, Recht, M, Shapiro, A, and Manco-Johnson, MJ.Young adult outcomes of childhood prophylaxis for severe hemophilia A: results of the Joint Outcome Continuation Study Blood Adv, 2020. 4(11): DOI: 10.1182/bloodadvances.2019001311.

3. Manco-Johnson, MJ, Warren, BB, Buckner, TW, Funk, SM, and Wang, M.Outcome measures in Haemophilia: Beyond ABR (Annualized Bleeding Rate) Haemophilia, 2021. 27 Suppl 3: DOI: 10.1111/hae.14099.

4. Warren, BB, Chan, A, Manco-Johnson, M, Branchford, BR, Buckner, TW, Moyer, G, Gibson, E, Thornhill, D, Wang, M, and Ng, CJ.Emicizumab initiation and bleeding outcomes in people with hemophilia A with and without inhibitors: A single-center report Res Pract Thromb Haemost, 2021. 5(5): DOI: 10.1002/rth2.12571.

5. Robertson, C, Gaffney, BMM, Mah, N, Durkee, H, Singer-Fox, L, Roybal, J, Funk, S, Manco-Johnson, M, Carollo, JJ, and Warren, BB. Ground Reaction Force Asymmetry during Simulated Sports Activites to Better Understand Hemophilic Arthropathy. in Gait and Clinical Motion Analysis Society. 2022. Virtual.