Member Profile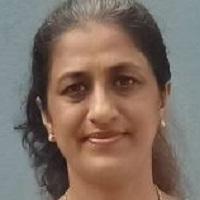 Dr. John has been involved with the care of persons with haemophilia for 15 years. After completion of MD (2004) and Diplomate of the National Board of Examinations (DNB ) in PMR (November 2005) from CMC Vellore , The Tamil Nadu Dr M.G.R. Medical University, India, Dr. John completed a two year fellowship from Toronto Rehabilitation Institute, The University of Toronto from 2007-2009.
Dr. John has worked along with the interdisciplinary team in the haemophilia clinic in CMC Vellore, in developing algorithms for the management of musculoskeletal complications seen in resource limited areas. She has also been involved with validating the Functional Independence Score in Haemophilia (FISH) and the Canadian Occupational Performance Measure in Haemophilia.
Dr. John has been part of the Vellore team which through collaborative work with the experts in haemophilia care from Toronto and Utrech have recommended guidelines for the core outcome measures in haemophilia. She has been involved in organizing Musculoskeletal training programs for Clinicians and Allied health professionals within the country and in the Asia Pacific region.
Key Publications
1. John JA, Mani RM, Thomas R, Macaden AS, Srivastava A, Skeil D, Bhattacharji S. Low-cost treatment for haemophilic knee contractures BMJ(6 April 2007) Rapid Response to: Lee C, Sabin C, Miners A. High cost, low volume care: the case of haemophilia. BMJ 1997; 315: 962-963

2. Padankatti et al, A patient-prioritized ability assessment in haemophilia: the Canadian Occupational Performance Measure. Haemophilia. 2011 July; 17(4): 605–611

3. Tilak M, Paul A, Samuel CS, David JA, Viswabandya A, Srivastava A. Cryotherapy for acute haemarthrosis in haemophilia - attempts to understand the 'ice age' practice. Haemophilia 2015; 21:e103-e105.

4. Judy Ann David, Brian M. Feldman, Assessing Activities, Participation, and Quality of Life in Hemophilia: Relevance, Current Limitations, and Possible Options. Seminars in Thrombosis and Hemostasis 2015; 41:894–900.

5. K Fischer et al. Choosing outcome assessment tools in haemophilia care and research: a multidisciplinary perspective. Haemophilia Volume 23, Issue 1 January 2017 Pages 11–24